A bride's Lehenga is the most important outfit in any woman's life , something she has dreamt of since her childhood while playing gudagudiya games and while going up along with tastes & trends altered it . Most of the girls have already planned their wedding Lehengaway ahead then even the dulha is decided .She wants all eyes on her on her important " D DAY " , But the trends changing can confuse her and make her dream Lehenga a little blurry , so don't worry we have a list of few trends she should definitely consider before designing her Lehenga .
Your " HAPPILY EVER AFTER "
Every love story needs to be portrayed and remembered for life , what could be better than a wedding lehenga ? Something that the bride can always cherish in the future whenever she sees her beautiful lehenga . So the lehenga could have a story line from how you met your soulmate to your happily ever after .
BE BASIC
May that be 1990's or 2018 , some trends you just cant get bored of . Sometimes while selecting the lehenga you have to take care of so many things like a little bit of your grandmothers lehenga, latest trend , your mother in laws liking and last of all the designer should be able to understand . A fusion of all these things will make everyone smile and no one would frown about the lehenga .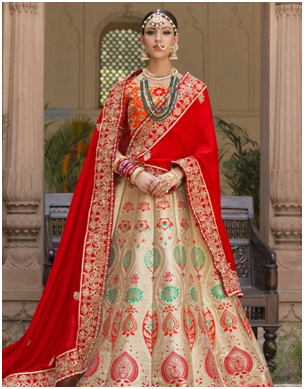 ELEGANCE IN VIOLET
A bride that wants to break the typical stereotype lehenga color and try something different and unique ,A elegant Violet lehenga is the option she should select for . A complimenting makeup is all you need for a complete bridal look and leave people in awe
LOVE DRAMA , LOVE RUFFLES
A bride that wants to keep simple and subtle , yet wants a little drama can add ruffles to her lehenga and transform her complete outfit look . She can play around with colors that she thinks that will suit her wedding look
FLORAL LOOK
Since 2016 , A floral trend that started never really got old , rather it got better with so many different alterations . With Bollywood actress flaunting the trend , it's a necessity that every girl would like to possess , why not change the dialogue from " Kareena Kapoor's lehenga " to "Anushkasharma'slehenga "
Contrast it
Confused about which favorite color should you select for your Wedding Lehenga , Why not select the right shade of all your favorite colors and mix match it ? You will definitely not be upset or regret this choice